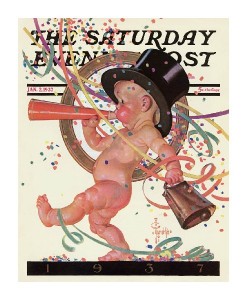 I checked up on this here blog this morning and realized I hadn't blogged since Christmas. That's not a huge span of time these days (I've been known to skip out for 2-3 weeks from time to time), but for some reason it seems a world away, even though the holidays are barely over. Seems like a lot has transpired since I've been away. Here are just a few things that have happened since Christmas:
1. This blog quietly turned six years old on December 30.
2. Thanks to a generous gift, I made some significant updates to my home studio to help with my music composition projects.
3. Obamacare went into effect.
4. Weed became legal in Colorado.
Yep–kind of like a whole new world. 🙂
Anyhow…being the first blog post of 2014, I thought I'd reflect a little bit on the past year, ramble on about the new year, etc. Feel free to hang in there with me. Or fall asleep reading. I don't care–I can't really see what you're doing on that end, anyhow.
I began 2013 with a strong sense of destiny, feeling like it would be our best year yet. For several years, my prayer has been, "God, bring us into our full inheritance," and looking back at this year, I can definitely see how each of my family members has taken huge strides toward that inheritance.  The Wild One has evolved greatly as an artist, is getting a lot of interest from her art, has sold a few pieces, and is set to start actually generating an income this year.  While we're still trying to get The Director's short film into film festivals (we've discovered it's a bit difficult for newcomers to get noticed), The Director has since ventured into directing music videos for indie musicians, and that has led him into what looks to be a very promising partnership with a local recording studio.  As for me, I have had a renewed focus on composing music for television, film and media, along with a fresh stirring toward mission that I believe will be taking shape within the next few months.
Of course, things rarely happen the way we envision them, and while I recognize this progress, I also see that this progress has come at a cost. In short, there has been more resistance this year than in years past, on a number of levels. Threats against our income streams, health challenges (not serious, but challenging nonetheless), and in general fighting against inordinate amounts of discouragement and fear. 2013 was a good year, but it was not an easy year. And so while I am grateful and thankful for the progress that has been made, and while we have ended the year still on our feet…on an emotional level, I'm still kind of reeling at the way my hinder parts were kicked this year.
All this to say, I'm entering 2014 with a sense of hope, but also a sense of sobriety. I think I expected to end 2013 feeling like we "arrived" (ludicrous, I know). But I'm embarking on 2014 realizing we are closer to where we want to be, but that we are not there yet–there is work to do.
And if I were to describe the overall vibe in my household going into the new year, that would be it: there is work to do.  We haven't arrived yet, but enough has happened to give us momentum and passion to press past any resistance and do the work set before us. Write. Paint. Compose. Direct. Seek. This focus is so tangible that I think our family could hardly wait for the holidays to be over so we could get back to work. 🙂
Sometimes the movement is easy. Sometimes it feels like we're trudging through two feet of mud. But we're moving, and our little creative family has learned how to lean on one another, to talk through discouragement, to feed our creative souls when we start to feel dry or barren.
And that, I think, is the one element that gives me more hope than even the opportunities now before us: we are learning, together, how to keep moving forward, whether the going is easy or difficult. And because of that, I am more confident than ever that we will each come into our own.
Of course, we never really "arrive." This is a journey, with mile markers, and when we get to the completion of one season, another begins, each with its own challenges. But I'm excited to see where this leg of the journey will take us.
2013 was not an easy year, but the sense of destiny is stronger than ever. That is what I take into 2014.